Caravel Piston Seal Set
This is what started it all. I had gotten myself a VAM Caravel and needed to get it working. For those who are unfamiliar with these beauties, this is what the first model Caravels look:
Pretty soon I found out it was impossible to find a good seal that fits the piston perfectly, has the required temperature stability, works well and is safe to be used in contact with food. I ended up having it custom made to my requirements with feedback from users at Home-Barista.com.  Everybody who got them was ecstatic. Only problem: the only possibility to keep sharing them is to do it through a company. So here we are…
The advantages of this seal are that it:
-fits perfectly
-has the right flexibility
-is foodsafe
-is very durable
-shows clearly any coffee leftovers you need to remove
Because it is custom made, it is not the cheapest solution around. But to my knowledge and experience, it is the best and will let you use the Caravel as it is supposed to be used: pure joy.
It even works on the beaten up (and greased up ready to use) aluminium piston pictured below: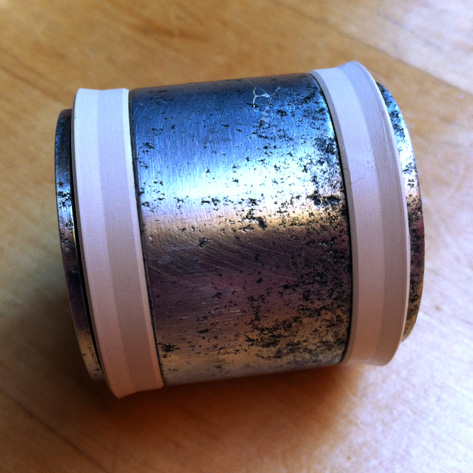 Later I also added the small o-ring that goes into the piston of the later models:
Together that makes a set that includes:
-2 x the piston seal (u-cup)
-1 x the small piston o-ring
Price:
25,00€ for export outside Europe
30,25€ incl. 21% taxes within Europe
Please note: I don't offer a set for the later machines that use the larger o-ring on the piston yet, until I have the chance to test it on a machine myself.
If you need the group to portafilter seal, I have that too.